A Timely Gimmick May Go A Long Way Toward Advancing Your Musical Vision
By Bruce Shutan
© 2001 Bruce Shutan. All rights reserved
In Washington, D.C., there are two FBIs: The Federal Bureau of Investigation, a household term since J. Edgar Hoover donned his first mini-skirt, and the "Full Blooded Italians," a new rock band with a timely gimmick. Their story is instructive for any artist that's hoping to get noticed in a musical marketplace teeming with both underground and established acts.
Crossing Men in Black mannerisms with Gambino Crime Family Values, the group is evenly divided between the forces of good and evil. Three members dressed as secret service agents drag onto the stage three handcuffed band mates who must repay their debt to society as part of a fictitious musical work-release program.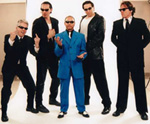 The band may have hit the D.C. club scene at just the right time. "The FBI has decided to work hand in glove to fight terrorism," deadpans Special Agent Berger, a.k.a. Agent G4. "We need to start thinking more unconventional and employ some shady characters to execute the diabolical plans to fight the minds of those who inflicted this."
Berger likens the group's histrionics to the WWF: "It's purely entertainment." The analogy is closer than he realizes: A duo going by the name Full Blooded Italians were voted one of the best World Wrestling Federation tag teams of 1998.
Each member of the musical version of the FBI storms the stage to the theme from "Dragnet" and stays in character throughout their performance - complete with Brooklyn accents. The bassist even tries to make a break for it, only to be repeatedly hauled back by the authorities within the band. The opening and closing number is "Secret Agent Man," while musical selections between sets include James Bond and Peter Gunn classics as well as Italian songs associated with popular gangster movies.
While the focus always should be on the music, Berger believes presentation is still important. "It tells the audience what you think of yourselves," he says. "People go to see a band - not just hear them."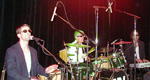 The FBI includes Jeff Quattro, a.k.a. Italian Ice, on keyboards and vocals; Jason Quattro, a.k.a. Rocko, on lead guitar; Randy Vidallon, a.k.a. Lefty Wright and Angelo, on bass and vocals; Willem Dicke, a.k.a. Agent WD-40, on lead vocals and rhythm guitar; Greg Berger on drums and Jeff Cowles, a.k.a. Agent 10-99, on percussion and vocals (Cowles appears courtesy of The Huge).
Dicke and Berger don black suits, ties and sunglasses, white shirts, special agent badges, handcuffs and pistol harnesses - just like Tommy Lee Jones and Will Smith from "Men in Black." The others adopt the persona of classic hoods: Vidallon, whose slight build brings to mind Joe Pesci, appears as a classic gangster, with the two Quattros serving as his thugs. Cowles wears the FBI field outfit - complete with boots, hat and military pants.
The band purchases its attire from the Rangers Surplus Military Store, which eventually will be a featured link on the official FBI Web site (www.FBIband.com). "You see," Berger quips, "we don't wanna carry any inventory. If someone wants an FBI hat, special agent badge or T-shirt like the ones we have, they have to order from the military store."
In promotional materials, a history of the band starts with a disclaimer that's right out of a "Law & Order" episode: "THE STORY YOU ARE ABOUT TO READ IS BASED ON TRUE EVENTS. THE NAMES HAVE BEEN CHANGED TO PROTECT THE INNOCENT."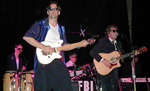 Remaining true to the Italian motif, visitors to the FBI Web site can click on links to "Historia," "Contatta" and "Data." Getting to the bottom of the FBI story isn't easy. Fans will need to plow through 1,364 white words on a black backdrop to learn about the band's humble beginnings, which humorously embellishes real-life events.
You'll meet a family band consisting of "three brothers on guitar, keys and drums with their eldest sister on lead vocals" that practiced in the garage until late in the evening and performed at occasional parties. The reference is to Quattro, the eponymous band of brothers that performed together in the Washington, D.C., area in the late 1980s. Rumor has it that record label mogul Miles Copeland, brother of Police drummer Stewart Copeland, is said to have thought it would be a kick for the first incarnation of the FBI to tour with The Police - a law enforcer's dream double bill.
Band members are so dedicated to the group that sometimes they stay in character long past their performance. Consider, for instance, the following exchange:
OnlineRock.com: What is the nature of your business?
Ice (in his best Brooklynese): "Hey don't ask me about my business. They told me we were gonna talk about the band. What is this? Friggin' 60 Minutes?"
OnlineRock.com: Why is Lefty Wright always trying to make a break for it at shows? I thought he was clean?
Angelo: "I gotta feelin' Agents G4 and WD-40 actually like us guys, despite all this talk about doin' their friggin' jobs. But to say this is some kinda work release program gives me the creeps. The thought of doin' this cuz I have to… Don't get me wrong. Those guys are good and all, and I like them, too. And hey, we put on a good little show, but they're still cops. It's like a twitch every once in a while. You see, the cops from our neighborhood weren't exactly model citizens if ya know what I mean."
In time, the FBI plans to post on its Web site a "Most Wanted" list of guest musicians as well as assemble a horn section called the IRS - short for Italian Rhythm Section.
Asked about the reaction to FBI gigs, Berger says "people who have a sense of humor and pay attention to the theatrics, subtle props and break music really think it's clever."
---

About the Author: Bruce Shutan, an L.A.-based freelance writer, has been playing the drums since 1970. He has performed and recorded in numerous bands. shutan@mindspring.com