The Austin Diaries: Four Days at South by Southwest

"I'm On a Mission From God!"

Click to read about: Day 1 | Day 2 | Day 3 | Day 4

Friday, March 15, 2002 - I'm wondering how many people will be reading this later? How many people, that is, who heard me talking up a storm; 'cause I was on a mission during the trade show. It wasn't a mission to sign up members for the site, although ostensibly that is what I was there to do. That, and to help Steve out with everything, demonstrate the web site to people, and otherwise make myself useful. But on Friday I took off on a tangent. I became an evangelist. I am very passionate about what I feel, and I feel that the Internet offers all musicians a way out of the valley of doom! "This is our chance, we've got to take the bull by the horns (an appropriate analogy for Texas, don't you think?!) and opt out of the standard relationship between artist and label. We've got the opportunity to create something entirely new. Tear up the standard contract; get rid of the royalty scheme. Let the artists make the bulk of the money that they generate from their work, and own the rights to it. Blow off the major labels, have it your way!"  

I went off. I talked it up with everyone I came in contact with, and if you came by our booth on Friday, you know what I mean, because you undoubtedly heard my rant. I got into it with a very nice woman, Pat Enyart of Shoot to Thrill Photography. We argued about the viability of going up against the huge corporate monoliths that constitute the recording industry. It went on for a while, and I'm sure she thinks I'm nuts! But, hey, it's worth a shot, isn't it?

In the early afternoon Robbie Robertson was interviewed by Ben Fong-Torres of Rolling Stone regarding the new release of the updated and digitized version of The Last Waltz. I attended and what they showed of the new movie (Which debuted at the Paramount Theater in Austin that night) looked really, really good. There is also added footage, more music, and interviews with Robbie Robertson, Martin Scorcese and others about the making of it all. Robbie was asked a question about signing his first record deal. He told us that it was because of his manager that they got a good deal, the same one who was managing Bob Dylan at the time, who wouldn't have let them get screwed. Take note, people. Good management makes a HUGE difference when dealing with the major labels. So does good legal representation. That's solid advice you can literally take to the bank!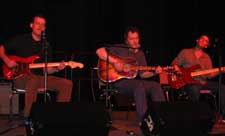 Later after the trade show closed up for the night, I parted company with Steve for a personal reason, I was going to meet my cousin, Laura. Her husband, Tracey Dear (yes, that is his real last name, not just something Laura calls him!) plays in a band that is very popular in Austin during SXSW, The Waco Brothers. That had played a set during the afternoon at Yard Dog's Art Gallery, and I met up with them just after they had finished. As Tracey explained to me, it was a terrible gig, plagued by "technical difficulties". The PA went out after the second song! (Bummer, dude! The "technical difficulties" scenario would play out in a particularly heinous way Saturday night at The Drink, but we'll get to that in a minute.) Oh well, that wasn't their SXSW showcase, anyway. That was Saturday night at Mother Eagan's at 1:00 am. So we ate some great Mexican food at Guero's, and then my cousin, who went to college at the University of Texas in Austin, promised to show me the "real" Austin later that night.
The best music I encountered during the whole SXSW was not a SXSW sponsored gig. Laura and Tracey took me to the thick of it at a little honky-tonk dive bar called Ginny's Little Longhorn. It was my kind of place, cramped and dirty with the paint peeling off the ceiling, reeking of beer on the floor (or worse) and clouded up with second hand smoke! The crowd was made up of local Austin folk, not music biz smoothies. We listened to the first band finish their set, and someone in the audience told me that the female pedal steel player played with Asleep at the Wheel. They sounded great, good ol' Texas country. Up next was the main attraction, James Intveld, formerly of the Blasters. We stood right next to the band as they slammed through some very well done Texas country blues and rootsy rock and roll. Their guitar player was great; he really knew what to play, and when to play it so as to take the song to the next level. He was firing off all manner of rockin' country blues licks, trashy and flashy, and the crowd just ate it up.
It was about one o'clock when they dropped me off back at the hotel, and Steve was still out. He came straggling in around two-thirty, lookin' rode hard and hung out wet, but happy. He told me he had been at Stubbs listening to Robert Bradley and Johnny Lang and it was great. Well, another day down, one more to go. We both partied pretty hard tonight, had to make up for last night, you know, and we're both looking forward to doing it again tomorrow! As Steve said to me when he was contemplating going at it all over again tomorrow, "I'll sleep when I die!"
Click to read about: Day 1 | Day 2 | Day 3 | Day 4  
Stay Tuned,
The Virtual Musician