The Austin Diaries: Four Days at South by Southwest

Scatological Ramblings and Technical Difficulties

Click to read about: Day 1 | Day 2 | Day 3 | Day 4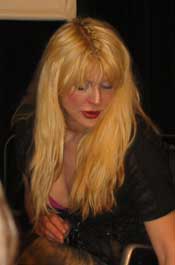 Saturday, March 16, 2002 - The trade show was good again, we were expecting Saturday to be the "Big Day", but it turned out that it wasn't as crazy as we had hoped for. Thursday was the busiest day for us, but Saturday was very productive also. It seemed that most people turned up not for the trade show, but for Courtney Love's panel in the afternoon. I expected to saunter on in and get a good seat, just like I did for Robbie Robertson, but it didn't turn out that way! There was an overflow crowd for her talk, and I had to go upstairs and sit in a darkened ballroom, and watch her on a live feed. So, I didn't actually "see" Courtney Love, I kinda watched her on a big screen TV! I was disappointed by this, but, hey, it's what she had to say that counts, right? Steve had a photo pass and was able to get some close shots of her.
She looked good on the screen, long flowing blonde hair that she was constantly tossing around, and she was much better dressed than I had expected. She was also wearing lots of makeup, and very deep red lipstick. She had the look of a "nice" girl, but her attitude and constant use of the word fuck belied a different bearing. (Not that there's any problem with that!) The thing that got me as her monologue progressed was her seemingly confused state of mind, and her frequent memory lapses. But it was intriguing, and she played to the "sold out" house to great effect.
She was (supposedly) being interviewed by Chuck Phillips, a reporter from the L.A. Times. It was reported in the SXSW "big book" (the guide to the events during the week that is given to all the participants) that he was a Pulitzer Prize winning journalist. Well, Chuck wouldn't be winning any awards for his infrequent and banal contributions to this particular forum, and his questioning of Ms. Love was virtually nonexistent. He was obviously way out of his depth here, as he sat limply in his chair while she rambled on, scatological musings that ranged from whispered asides to accusatory diatribes to confessional revelations. It was entertaining as hell to watch, and I'm still not sure if it was a calculated act or the result of too much partying and not enough sleep, or something else entirely. But contained in her confusing and oftentimes hilarious rants  were some golden nuggets of truth, advice, and statistical data that were remarkable for what they said about an industry that has lurched out of control in recent years. 
She gave us some numbers that were downright chilling, such as the fact that 97% of artists signed by record labels fail. That means the success rate of recording artists is a microscopic 3%! It doesn't take a Ph.D. to be able to figure out that that is a bad business model. What "failing" means in the record business is not making back the money you spent on recording and promotion. A 97% failure rate means a lot of losses. When successful artists hit a home run and sell millions of units, that is what pays for all the failures. Why so many failures?
Courtney likened it to winemaking. Her analogy went like this, if you don't know anything about growing grapes, you'll go and plant grapes anywhere. Instead of planting grapes in the Napa valley, you'll go and plant 'em in places like Fresno, Barstow, and   Turlock, just throwing them around without any regard to where they will actually grow well and produce some good wine. Then, somebody tells you about a place called Napa. So, you go plant some there and what do you know, you get a great wine as a result. The point being, the people running the record companies today don't have a clue about developing talent, so they throw their money around like fools and lose a lot of it with artists that probably had no real potential to begin with.
She lamented the loss of "creative" records execs, people who knew something about music, who loved music and had extensive record collections. She told us that one big time record executive was a guy who came from General Mills, the cereal company. It is all "bottom line" business now, but the people who are running this business don't know a damn thing about it, and as a result they are lousy at protecting the bottom line!
She also talked about how much money these executives are making. According to Courtney, at one of the major labels, there are five "Presidents" each making 5 million dollars in annual salary. The artists are paying their exorbitant salaries when they sell records. She described "creative accounting" practices that the labels employ, and the outlandish things that artists are being charged for. She said that labels have gotten rid of artist's representatives and pay little attention to even their big name, million selling stars. "In the past", she explained, "We had a guy. If I was pissed off, at least I could always call my "guy". We had a guy. Now, we don't have a "guy" anymore." The picture that she painted of a relationship with a major record label was pretty ugly.
There were more statistics; Catalog sales are the bread and butter of major record labels these days, not sales of new recordings. 40% of all record sales are catalog sales, and 70% of all profits to record labels come from those sales. Now we know why we are seeing so many re-releases and compilations, such as the Beatles' "One". That was, by the way, the biggest selling record of 2001! This is just another nail in the coffin of aspiring acts.
Courtney also explained how the major labels have lost the patience needed to develop an artist. She gave Sarah McLachlan as an example. The labels no longer want, nor can they really afford, the model of an artist taking 3-4 albums to develop into a top seller. Beside the cost and time it takes, it gives the artists some leverage when dealing with the label. They don't want their artists to have any positive negotiating position, right?  It just means that they will have to give the artist more money, and that will eat into their already thin profits.
She ended with a story she said would surely get her into trouble, a story regarding U2 and the album that went multi platinum and copped a gaggle of Grammy's, "All That You Can't Leave Behind". She claims the label didn't want to promote it, and that it took a major hassle on the part of U2's management to get them to promote it the way it should be promoted. Pretty amazing, isn't it? But it comes down to the cost of promotion these days. In order to get a record promoted in way that will actually help sell the thing, it will cost millions of dollars. That is the way business works in today's world.
The music business must change, or die. The music itself won't die, there will always be people willing to do it for almost nothing, because they are truly "artists" and just have to make music. But there must be a new and better way to record and distribute it, and we have got to figure out a successful way to get the public to hear it. The audience also has to work harder to find it, because radio, in the form of Clear Channel Communications, has reduced the amount of music available to the average radio listener. Something that's absolutely imperative is getting the music out to the potential buyer, and if this can't happen by the tried and true means of commercial radio play, we've got to find other means!
But it's not over yet, and there is still plenty of good music being made. That was evident by the number of bands playing at the SXSW festival this year, and any cursory inspection of Internet music sites will attest to the fact that there is plenty of good, vital music being produced. It's just a matter of finding outlets for it, and getting people to pay for it.
So, after the trade show was over (and it was kind of sad for Steve and myself when it all came to a close and we were busy deconstructing our booth) we were determined to go out and hear some of that good, vital music before we had to leave early Sunday morning. We left the convention center and tossed everything back in our room, and headed over to the Ironworks to have one more meal of great Bar B-Q. Then it was back to the hotel to pack up (We needed to get up at 5:00 am in order to catch our 7:45 am flight out.) and have one more martini at the bar in the Driskill. We then shot out to Sixth Street, where the party was already raging, and we went down to The Drink to catch our newfound Brazilian friends' showcase set.
The first band up that night was a band from Finland, Janne Haavisto and the Farangs. This was some of the most original music we heard all week, a kind of trippy space/funk with spoken word vocals. They were excellent!  After they finished, it was time for some great rock from Valv. The place was packed, and there were members of the press in attendance, they were sure to get a lot of attention for their set. But they were taking forever to get set up.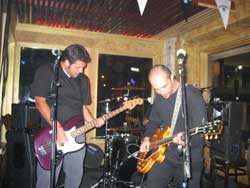 The first problem was that they didn't have power chords for the amplifiers, and the staff at The Drink was scurrying around madly trying to find the chords that were compatible with their amps. It took quite some time to finally get the right chords and plug in the amps. They started about thirty minutes late, but everyone stayed around anyway in order to catch this promising group in action. They finally began to play, and their first song was very, very good. But, just as they got going, an awful crackling sound began to manifest itself from the guitarist's brand new Fender Twin (they were using all rented equipment). It sounded terrible, and the guitarist was in obvious pain. They bulled their way through the first song, and the crowd responded with whoops and hollers.
Unfortunately, this turned out to be the only song we heard from them. The guitarist's amp was completely blown, the sound guy came up on-stage trying to adjust it so that it would sound OK, but it was no use. After about five minutes, they announced that the amp was blown, and they would need time to get another amp, which they assured us was on the way and would arrive in no time. That wasn't enough to hold a crowd that already demonstrated quite a lot of patience, and people began filing out of the club like rats deserting a sinking ship. It was terrible to watch, it was definitely a "worse case scenario" gig! These guys had come 10,000 miles for this? Steve and I wanted to stay around, but if we did we were going to risk missing one of the acts we were intent on seeing, Jerry Cantrell, at Stubbs. We quietly made our way out of the club, to go down to Stubbs, heads down as if we had just witnessed a train wreck.
It all got better when we got down to Stubbs, and Jerry Cantrell came out. He was the primary songwriter for Alice In Chains, and when his new band got it going, it was great stuff. He's got a new batch of very good songs, one in particular (unfortunately I can't remember the name) that sounded like a sure-fire hit. We left Stubbs feeling very good that we were able to catch his set.
We had intended to cruise on down to Mother Eagan's to catch the showcase performance by The Waco Brothers, but we never made it. It was already after 1:00 am, and we knew we wouldn't last. The week of partying had taken it's toll, and our legs were worn out from all the walking and standing from the previous three nights. So, instead, we just moseyed slowly back to the Driskill, soaking up the atmosphere on Sixth, passing all the bars and hearing all the music drift out into the street. The street was just teeming with people, and many of the clubs had lines going out the door and down the sidewalk. There was a big circle of people surrounding some dancers in the middle of the street, and the circus performers were back, riding tall unicycles. It looked like a Mardi Gras type of scene, minus the beads and flashing, with hundreds of young people getting crazy and having a good ol' time!
I read later that The Waco brothers really tore it up at Mother Eagan's. It was too bad we didn't get to their set, but to be honest there was so much music going on, and we could only catch so much of it. We saw some good stuff, but nothing that made us think; "Wow, here's the next big thing!" There were a lot of bands that played very well, but were not doing anything terribly original. The guys from Brasil, Valv, definitely have a lot of potential, and their sound was original. But we didn't get to hear much of their stuff. They do sing in English, by the way, so check 'em out if you get the chance, there's no language barrier there! Steve had caught an act Wednesday night before I arrived that he really liked, Kitty Gordon. He thought the band had a great sound, and good original tunes. He also liked The Understatements, a band from Japan with a western sound but Japanese lyrics.
Another great act that got a lot of attention during the festival was The Polyphonic Spree. They did some of their stuff before Robbie Robertson's keynote address on Thursday. It's a combination of gospel style vocals (There are 25 people in the group, so they definitely have that choral thing going on!) with rock music, raucous and joyous and definitely original. There was also Petty Booka, Japanese girls singing to the accompaniment of ukuleles, backed by an old-timey string band type of ensemble. The question for acts such as these is, will the people at Clear Channel deem this kind of offbeat and very original music something to add to their strangled until suffocated playlists? We'll have to wait and see. 
Other honorable mentions go to The Flatlanders, Norah Jones, and Caitlin Cary, acts that all received their unfair share of attention, and by all reports acquitted themselves very well. For Steve and I it was definitely a problem of so much music, so little time. I would love to have this problem more often!
All in all it was a fantastic week, full of fun, food and drink, and more music than you can shake a guitar at. We can't wait to go back again next year! It was also great to see so many up and coming acts finding a wider audience because of their participation, whether they had a showcase gig or not. I saw two different girls busking on Sixth Street, the one I mentioned previously who was playing when I arrived, and another who was playing Saturday night. They were really getting some good attention for themselves, just guerilla musicians giving it all they got. For the sake of Rock and Roll!
Click to read about: Day 1 | Day 2 | Day 3 | Day 4 
Stay Tuned,
The Virtual Musician